The THRIVE Experience is an 8-week premium lifestyle plan to help individuals experience and reach peak physical & mental levels. You're going to live, look, and feel Ultra Premium like never before! Results from the THRIVE Experience are high impact, and can differ slightly from person to person, depending on your 8-week goal, and which areas of your lifestyle need the most help. Whether your goal is to lose weight, get in the best shape of your life, or simply be the best you can be, we know the 8-Week THRIVE Experience will get you THRIVIN' in all areas of your life! Individuals on the Experience will enjoy premium support and benefits in the areas of:
---
Weight Management+
Cognitive Performance+
Digestive & Immune Support+
Healthy Joint Function+
Lean Muscle Support+
Calming of General Discomfort+
Age-Defying & Antioxidant Support+
---
THRIVE by Le-Vel is something that's hard to explain, and challenging to describe... it's something that can only be experienced.
What do I Take ?
---
The THRIVE Experience is a combination of our THRIVE Premium Lifestyle Capsule, THRIVE Ultra Micronized Lifestyle Shake Mix, and our Premium Lifestyle DFT (Derma Fusion Technology). Our premium naturopathic and synergistic formula of Vitamins, Minerals, Plant Extracts, Anti-Oxidants, Enzymes, Pro-Biotics, and Amino Acids is like nothing your body has ever experienced! It's Ultra Premium at its finest. What's even better is that the experience is gender specific for Men & Women.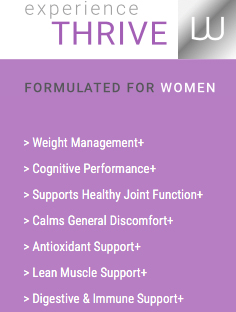 Who would love the experience?
---
he 8-Week THRIVE Experience is for anybody and every BODY. No matter how in shape, out of shape, healthy, or not healthy you might be, the 8-Week Experience is for You! Suit and tie executives, stay at home moms, professional athletes and couch coaches — everyone is loving the results from the 8-Week Experience. Doctors, Nurses, Dietitians and Personal Trainers all around the country not only love THEIR 8-Week Experience, they're also promoting it to friends and family.
Simply pick your 8-week goal, or define the areas where you'd like to experience the greatest improvements!
---
Lose Weight & Tone Up+
Take Your Workouts to New Levels+
Calming of General Discomfort+
Get Back In Shape+
Better Food Choices+
Look Better, Feel Better, More Energy+
---
Create your free account & get a free sample
Burn Technology- Weight Loss Evolution